ADCO Pipe & Supply offers geogrid products from Tensar, including the innovative TriAX triaxial grid. Or geogrid options give you the ability to stabilize even the most unsettled soils, and keep your project on time and on budget.
Tensar® TriAx® Geogrid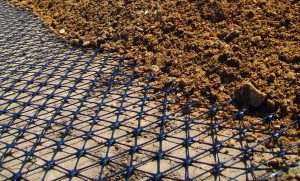 Tensar® TriAx® Geogrid is an advanced product specifically designed for trafficked surfaces. TriAx Geogrid's multi-directional properties leverage triangular geometry, one of construction's most stable and widely utilized shapes, to provide an enhanced level of in-plane stiffness. Its triangular structure, coupled with improved rib and junction geometry, offers the construction industry an improved alternative to conventional materials and practices.
TriAx Geogrid is manufactured from a punched polypropylene sheet oriented in multiple, equilateral directions to form its triangular aperture, resulting in high radial stiffness throughout the full 360 degrees. This feature yields a more efficient product that delivers optimal in-service stress transfer from the aggregate to the stabilizing geogrid.
Tensar® BX Geogrid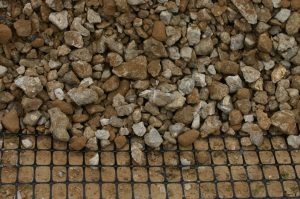 Tensar International invented and advanced the biaxial form of geogrid – the original geogrid. Tensar® BX Geogrids have been used for mechanical ground stabilization in over half a million projects worldwide, including roads, reinforced foundations and working platforms.
Tensar BX Geogrids are created using precise blends of polypropylene, copolymers and additives to resist high, short-term dynamic loads or moderate loads over longer time periods. While these products have been successfully used in a variety of applications for over 30 years, most designers working with geosynthetics today have turned to the more advanced and cost-effective technology of Tensar® TriAx® Geogrid. TriAx Geogrid offers improved performance, delivering longer service life and greater cost savings.
Spectra® Roadway Improvement System
The Spectra
®
Roadway Improvement System is a comprehensive approach for optimizing pavement performance using Tensar
®
TriAx
®
Geogrids. The system uses the multiple benefits of a mechanically stabilized layer (MSL), which consists of aggregate stabilized by TriAx Geogrid, to form a stiffer and more robust structure. But the Spectra System is more than just the MSL. It includes all the expertise, experience, design tools, support and service that Tensar International delivers – a complete solution for pavement design engineers and contractors.