HDPE Fittings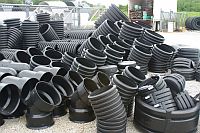 HDPE fittings are critical to getting the job done. That's why we stock one of the most comprehensive selections of fittings in the region.
Components we provide include:
Split couplers
Bell couplers
Bell and spigot joining systems
Gaskets
No matter what your spec, we can offer a solution. And we continually adjust our inventory so that it matches demand in Alabama and Tennessee. This means you get what you need at the most competitive price.
We'll provide detailed pricing, target delivery date and terms usually within 24 hours. We look forward to hearing from you!
Submit Request Online
Can't call? Just use our online form.
We have two locations staffed by experienced experts to help you with analyzing your plans, giving you fast and accurate quotes, and getting you the supplies you need to finish the job. We can even transfer inventory quickly between locations to cut down on your wait time.
Florence, AL
(256) 757-7473
Email Us
Huntsville, AL
(256) 434-2008
Email Us